Biography
Biography Of Luyanda Mzazi, Profile, Age, Background, Education, Career, Generations The Legacy and Net Worth
Biography Of Luyanda Mzazi
Biography Of Luyanda Mzazi, Profile, Age, Background, Education, Career, Generations The Legacy and Net Worth
Luyanda Mzazi is a South African actress popular for her role Lesedi on Generations The Legacy. She has a lot to prove and is not intending to let anyone stop her. Most of her on screen character traits relates to her off screen personal but that won't stop us from wanting to know more.
Luyanda Mzazi is one of the great young talents in South Africa and her star keeps shinning. Her humble nature makes her a fan favourite.
Profile
Age
The talented actress was born on May 28, 1995 in Johanesburg, South Africa. Luyanda Mzazi is 26 as of 2021.
Background
Luyanda Mzazi parents are a mystery, as the actress has always made efforts to keep them a secret. All we know is that Luyanda Mzazi dad is famous and is part of the entertainment industry in South Africa. She is yet to release any information despite being asked questions on her parents on numerous interviews. Lesedi does not want her success to be defined by having a famous dad, the actress put her family away from the public.
Career And Education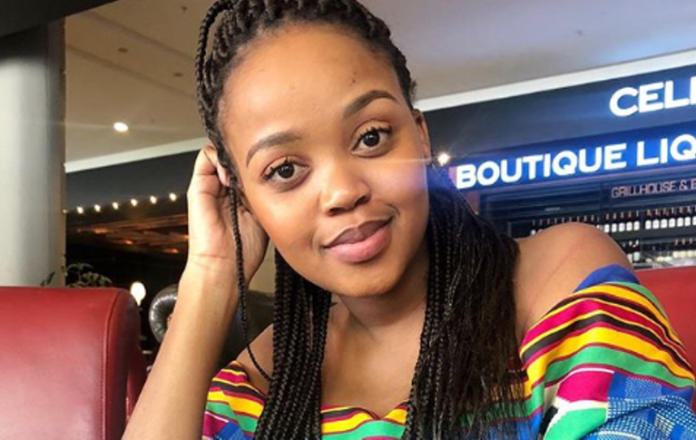 Luyanda Mzazi, known to many as Lesedi from the soapie Generations The Legacy is an actress, presenter, MC, voice over artist, social media marketer, and blogger from South Africa
The budding actress' craze for drama manifests at the tender age of 8. Proving she has a knack for acting, Luyanda lands her debut gig at only 19 years of age.
The young talented actress perfected her craft at the National School of the Arts, for 5 years. She is also studying HR at UNISA.
Personal Life
Her InstaCelebrity status has attracted her quite a number of ambassadorship deals. The actress is an ambassador for Caring4Girls and JAM (SA). Their status quo is to give food as well as sanitary items among other provisions to needy children. She has also managed to bag brand deals at Glam Hair Ambassador and promotes products from brands like Sorbet and Kotex.
View this post on Instagram
Generations The Legacy
View this post on Instagram
The actress plays Lesedi on the soapie. Regarding her role, she has this to say, "Lesedi is not aware of her surroundings and she basically goes where life takes her. Lesedi never had a family bond like Luyanda. Playing the character at first look caused so much anxiety but now I can honestly say I enjoy being Lesedi," she said.
Net Worth
With all the titles she has to her name, the budding actress is making a pretty penny. Her net worth is still under review but she bags a salary in the range R25 000 to R35 000 per month on Generations. Luyanda is just at the onset of her career but is already killing it. Watch the space.
Lusanda Mzazi Instagram
Luyanda Mzazi Instagram page portrays her love for food among other interests, which is probably why she has many fans. Furthermore, the celebrity is an avid Twitter user, and she uses the platform to interact with fans and share her thoughts. Here is one of her pictures showing that food is clearly her first love.
Lusanda Mzazi has 604k followers on her Instagram accout.
View this post on Instagram