Biography
Biography Of Mshoza, Age, Real Name, Profile, Career, Songs, Marriage, Cars And Children
Biography Of Mshoza
Biography Of Mshoza, Age, Real Name, Profile, Career, Songs, Marriage, Cars And Children
The South African entertainment industry received the shocking news that one of their talented artist, Nomasonto Maswanganyi popularly known by her stage name as Mshoza is dead. The news has came as a shock to many of her fans as no one expected such sad news.
She was an artist, Mshoza had much success in her musical career. Following her massive success to the Kwaito community, she was named the "Queen Of Kwaito". Many don't know much who Nomasonto Maswanganyi AKA Moshoza is, so we have created this post to give a brief profile and biography of the talented of the celebrated singer.
Mshoza has been on the South African music scene with songs such as Mshoza Ayina Chorus and Mshoza Kortes. She has also been in the news over the years for other reasons. This biography will introduce you to the woman behind the name
Age
Mshoza, real name Nomasonto Maswanganyi, was born at the Johannesburg Meadowlands Clinic. Her birthday is 7th January 1983, Mshoza was 37 years as of 2020.
Marriages
Marriage with Jacob Mnisi
She was first married to the businessman Jacob Mnisi in 2007 and had 2 children. The marriage ended in 2011 after reports of both being unfaithful. The marriage was rocky, even with their R3.5 million home in eMalahleni (Witbank)
For instance, she once attempted to take her own life in 2011. She went into a coma for a few days after overdosing on tablets and was admitted into the ICU of the Life of Cosmos Hospital in Witbank. The husband's spokesperson, Alex Matsimane, responded to rumours about the couple's soon-to-come divorce by denying them. However, the rumour turned out to be true.
Marriage with Thuthukani Mvula
She met and later married Thuthukani Mvula in 2017 but it did not last long. She first said that her husband had allegedly been physically and emotionally abusing her. She stated that he had kicked her out of their home in KwaZulu-Natal's Bergville region and that he had sent out hitmen. Then there came a report through the Daily Sun about Mvula burning her clothes and posting the pictures online.
Mvula was also still married to another woman whose name was being reported as Duduzile Mvula. The previous marriage had ended but their divorce had not been finalized.
Marriage to Prince Dlamini
Marriage to Prince Dlamini She would leave Mvula and go on to date the police detective Tlhabe Mbhele and Mamelodi Sundowns defender Anele Ngcongca. In February, it was reported that she had married for a third time in a private ceremony where family and friends gathered to watch her tie the knot with Prince Dlamini. He is a businessman from East Rand. Mshoza and her husband live in East Rand's Vonveld Park.
Career
She has been singing since her childhood, where she began singing in Protea at the age of 10. She played the lead when their school put on a performance Sarafina. Between 1995 and 1996, she joined a choir and became its lead singer. Between 1998 and 1999, she danced for Chiskop. She was signed around 1998 at 15 years, which is when she claims she made her first million.
Mshoza Songs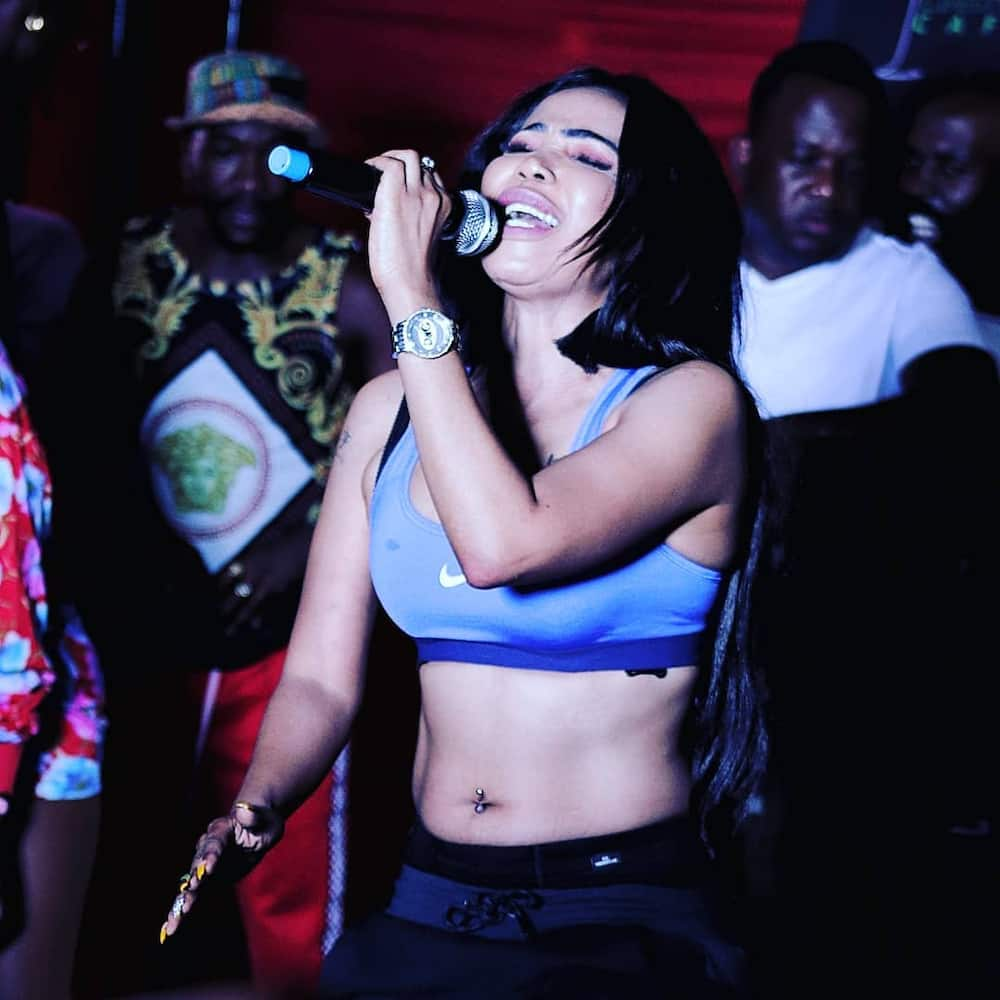 There are two Mshoza albums:
BullDawgz First Lady (2014)
Bhoza (2015)
1. Bulldawgz First Lady (2014)
It was released in 2014 under BullDawgz Entertainment. The track list is as follows:
From Mzambiya with Love
Mshoza Kortes (Kasi Luv)
Mshoza Bhoza
Black Luv (Interlude)
Heat of the Night
Status (Uyajola)
Kortes (Luve Back)
Bade Lami (Chatha Mix)
2. Bhoza (2015)
It was released in 2015. The tracklist is as follows:
Ez'm Nama Gen'gam (Piti)
Intro
Umshoza Yi Bhoza
My Angel
Nibe Smart (Pinky Pinky)
Halala (Woman Power)
Elephant Mix
Mshoza Yi Bhoza
Piti (Instrumental)
Outro
Cars
Children